Airfix Battles – The Introductory Wargame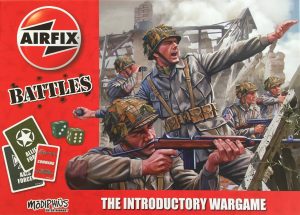 Airfix? Wargame? Maybe playing a wargame with your old plastic figures and tanks from old childhood memories? That was my first thought when I read about Airfix Battles for the first time. Well, this is not exactly it but it comes close enough.
First of all, Airfix Battles is not really Airfix but Modiphius, probably better known for roleplaying games. Maybe the producers were just clever to use the Airfix logo on their game to get more attention. (It worked!) Otherwise, Airfix Battles could be just another wargame which would work quite well without the logo. But as the author, Chris Birch, once said in an interview, he also had thoughts about childhood memories when he created the game.
For several decades the brand Airfix was a synonym for the hobby of scale modelling. I think in most boys' rooms there were Airfix-planes, -ships, -tanks or -figures. But during the 80s their success declined as scale modelling became less popular. Only in recent years, Airfix was sold to another company, the brand is more on the go. Maybe this a reason why they let Modiphius use their logo on their Introductory Wargame.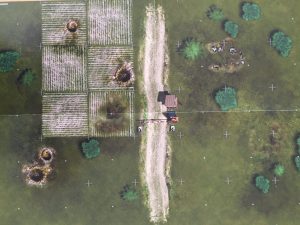 Airfix Battles is a simple to learn wargame which can either be played with the cardboard counters from the box or with plastic soldiers and tanks from any company. Of course Airfix figures in 1/72 scale (20mm) are recommended but I made another choice, which I will explain later. The game includes two 59,0 x 41,5 cm two-sided poster-maps on thick paper as well as buildings and obstacles on cardboard counters. All information about units are printed on so-called Force Cards, which go to the players' hand. This way stats and special abilities don't have to be kept in mind. Preparation for a typical game takes only a few minutes time.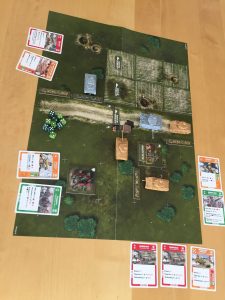 The rules are easy to learn with a scenario-based tutorial system. Ideal if you want to play with kids (As long as they know enough English!) or people who don't have much experience with wargames. But also experienced wargamers will have a lot of fun with Airfix Battles. However, some limits of the gameplay will become obvious after a while if you are used to more complex games. A lot of reviews are already around on the net (e.g. boardgamegeek.com). No need to repeat that but here are two aspects of the game I would like to single out.
Command Cards
This is not a new idea in a game but adds a lot to the fun of Airfix Battles. Usually a player knows the opponent's possible moves and by counting and calculating can plan his own moves. Command Cards bring the element of surprise. Each player has a certain number of these cards which grant Special Orders, which are unknown to your opponent. This brings more tactical options, for example, some cards give the option to move further or move AND shoot, what is usually not allowed. Some cards work as Interupts and can be used any time during your opponent's move. This way the usual 'I-go-you-go'-conecpt is broken up. But of course, that means, luck and coincidence play an even greater part in the game.
Valour Counter
The Valour Counter is only a small detail in the game but the idea is genius! Only one player can own the Valour Counter at a time. If you have it, you can decide to re-roll a roll of any number of dice. After that the counter goes to your opponent, who has this option now. The second roll has to be accepted. In our games the Valour Counter already contributed to a lot of fun. When bad luck strikes again there is at least a second chance.
Figures and models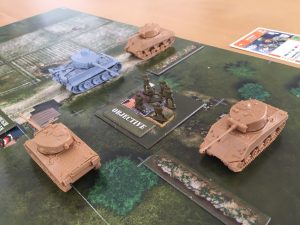 Airfix Battles is recommended to be played with the cheap and easy to get figures from Airfix, Revell or similar companies. Using figures adds a lot of fun and depth to the game. However, I felt 1/72 (20mm) is too big a scale for the maps. The houses look too small in contrast to figures, tanks would use up more than a single square on the map. As a cosequence I decided for 1/100 scale (15mm) models. A nice side effect: When storing the game components, they use much less space.
For infantry I use figures from The Plastic Soldier Company, which offers a wide array of choices for a reasonable price. For tanks and vehicles Zvezda offers very nice models in 1/100 scale for their own World War II wargame. These are cheap, easy and fast to build and do not necessarily have to be painted. The choice of models in this range is limited but it is growing and if still not available, models can still be purchased from The Plastic Soldier Company or Flames of War.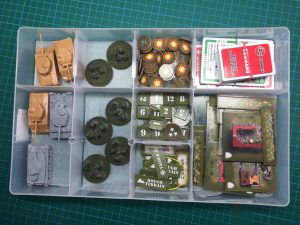 New Material
Airfix Battles is open for a lot of expansions which will hopefully come. Additional Force and Command Cards are available from Modiphius and new material was published in Modiphia, Modiphius' new free house-magazine. The first two editions offered new scenarios and cards for home-printing. Modiphia is available by download via drivethrurpg in pdf-format.
Conclusion
Airfix Battles is a great game. It brings back memories from a long time ago. Frankly, a lot of childhood memory revivals end up in disappoinmtent (e.g. TV shows, ice cream). Airfix Battles did not disappoint me and brings new worthwhile memories and fun in form of building new models and having great gaming sessions.
Experienced players will definitly see the limits of the game mechanics but, nevertheless, playing can still be fun when there is no time for larger games. Airfix Battles could also be a nice choice for fathers and sons to find a common interest and for introducing friends to the world of wargames, who did not have the luck to play such games, so far.