Broken promise… for the Greater Good
Some years ago I promised myself not to paint any more miniatures for other people. Now this promise was broken. The reason I promised this anyway was that it took me too much time to paint other people's stuff while my own projects accumulated on the pile of shame. Nevertheless, now I painted these XV25s for a friend of mine. So, why did I do this:
He is one of my best friends and it's for his birthday.
It gave me the opportunity to try out GW's new Contrast paints.
I hope I can convince my mate that it is so easy to paint Vior'la Taus with Contrast paints that he starts to paint them for Kill Team himself. (Canny little ba…d, I am!)
I don't really know what to think about the result. On the one hand it's very easy to do in a short amount of time on the other hand the standard method produces much better results. Maybe it's better not to look at individual figures but to imagine them as a whole unit on table top. For now it's ok and maybe I will add some details and highlights later. Another 'first' is the bases. Here I used one of the "Acrylic muds" from MIG. The result is really good but I don't know why it should be any better than the one's from Vallejo or GW.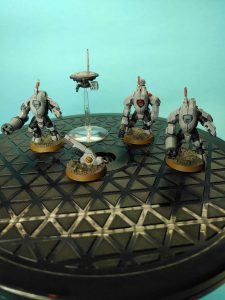 Nice story about how I got hand on these figures. At the end of last year I took part in my first scale modelling exhibition as a participant (Maple Leaf Bühl, Baden-Württemberg) where I met a Canadian guy who also was in 40k. There he sold some of his stuff along with the XV25s in a battered box but everything on sprue… for 10€. Happy with the deal I took it as a later present for my friend. Now  I decided to paint them up as I already had all the necessary paints on my shelf.